Hi, I'm Jocelyn and this is my story
Our sweet Jocelyn was born on December 19, 2013. She was tragically taken from us on January 14th, 2021 after a routine dental appointment a week earlier. Jocelyn was a sweet and precious little girl who was diagnosed with Cohen Syndrome. That did not stop her determination and courage to become a special person in our lives and brought so much joy to all that knew and loved her.
Jocelyn loved Christmas (like her Mommy), lights, glitter and sparkle. She loved to dance and twirl to music or whatever made her happy. She enjoyed being Mommy's best buddy and friend. Daddy's little girl with trips to Cabela's. Playing with her 4 year old sister Tenley (sisters that loved each other so much) and her 18 month old Brother Hendrix. Jocelyn had a passion for swimming and would challenge the biggest wave she could find. She spent hours swimming at Grandma and Grandpa's pool.
Her giggle and laugh were the sweetest sounds you will ever hear. Jocelyn loved being a 1st grader at Jackson Elementary school. Jocelyn enjoyed traveling to Mexico and Disney.
Jocelyn, as we search for reasons and answers to why you were taken so soon. Please know this, you will never be forgotten and you will always be missed. Our memories will be cherished forever and our love for you will never end. We will always be looking for lights, sparkle and glitter to remind us of you and will look above knowing that you will always be dancing and twirling.
Jocelyn's care boxes have been going out and touching the lives of others. Because of Jocelyn we will be #ForeverSparkling
We appreciate everyone's support so much because without you we couldn't be doing what we're doing. Every event, fundraiser, donation goes towards helping a family towards the process of healing.
It's a long process. I don't think we're professionals. This is life long process.
Most families we reach out to are in the early days.
We are making a difference, because of and for Jocelyn .
UPDATE 9/20/23:
We just sent out our 29th comfort package today to 3 year old Henry's family!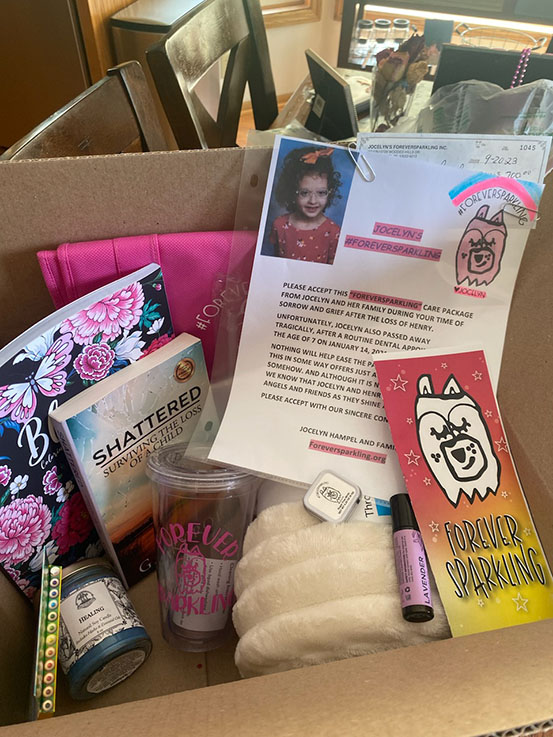 UPDATE: 5/12/23:
Another three boxes just went out to Wesson, Maddie and Elisabeth!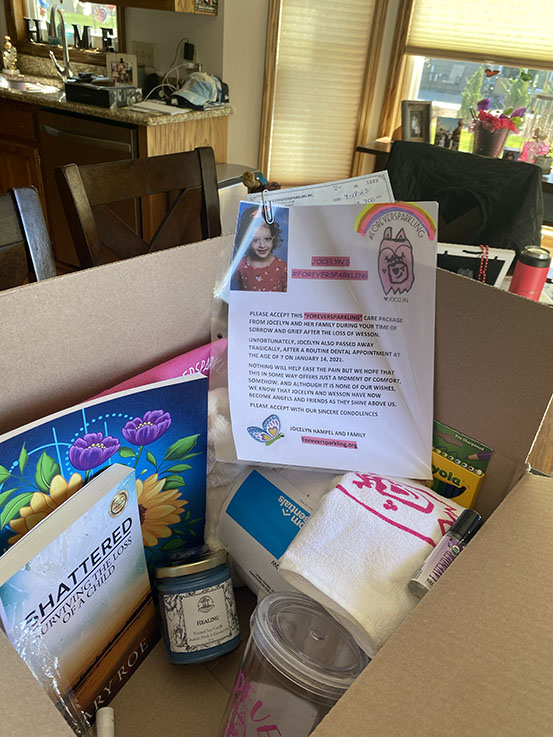 UPDATE: 2/22/23:
Another ForeverSparkling help box is going out today to 3 month old Melody's family.
She passed away earlier this month unexpectedly.
Please keep her family in your thoughts and prayers as they now have to navigate the awful path of child loss.
Thank you all for helping us keep Jocelyn's mission of helping families that lose children to unexpected tragedy.
Together we will keep Jocelyn #ForeverSparkling!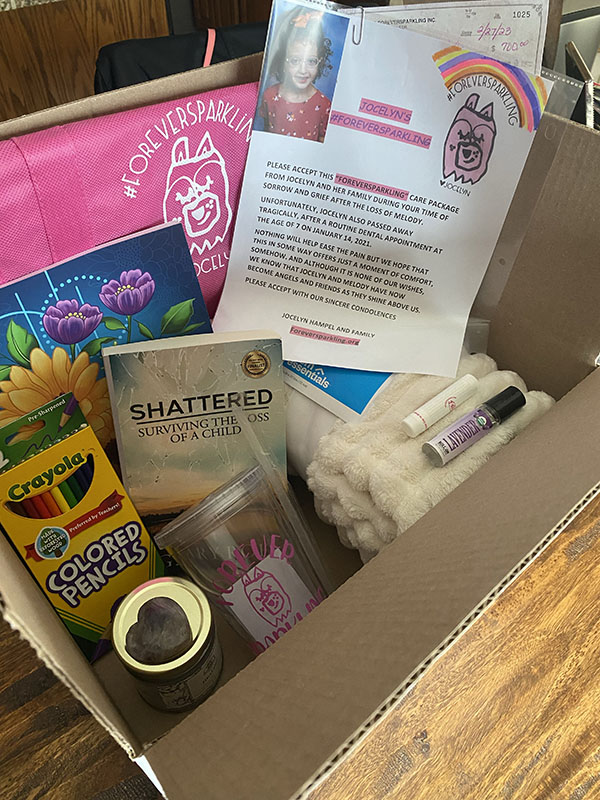 UPDATE: 10/19/22:
2 more care boxes going out today which means 2 more families are struggling…
Saban, an infant and Spencer, a 7 year old taken way to soon…
We hope these care boxes help just a little.
Thank you everyone for supporting our mission to help families who have suffered child loss through unexpected tragedy!
With your help we will keep sweet Jocelyn #ForeverSparkling