2023 Birthday Toy Drive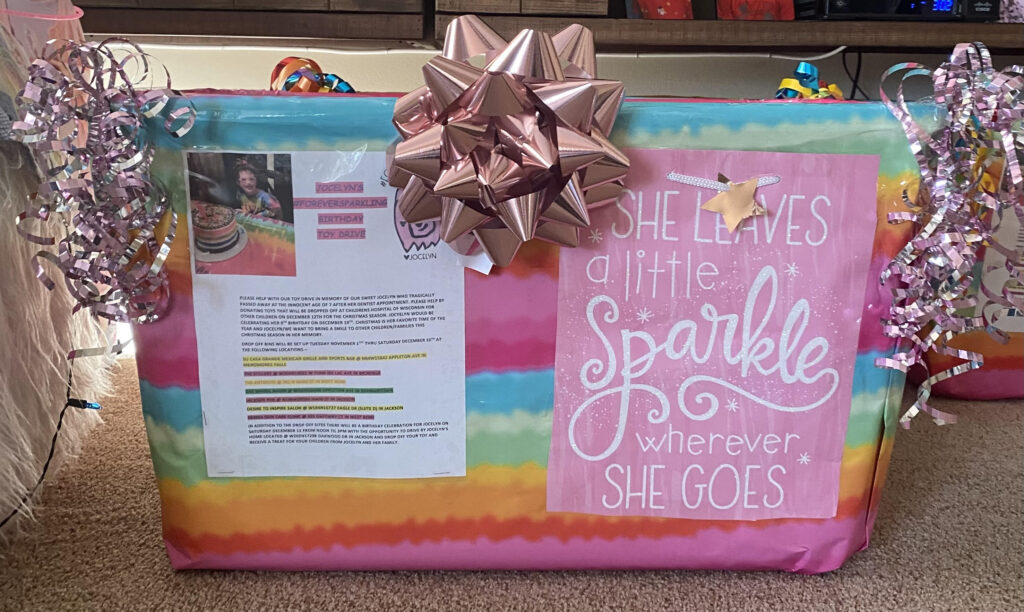 Please help with our toy drive in memory of our sweet Jocelyn who tragically passed away at the innocent age of 7 after her dentist appointment. Please help by donating toys that will be dropped off at Childrens Hospital of Wisconsin for other children on December 11th for the Christmas season.
Jocelyn would be celebrating her 10th birthday on December 19th. Christmas was one of Jocelyn's favorite times of the year. To honor Jocelyn, her family's mission is to bring smiles to other children and families this Christmas. All in an effort to help bring joy to other families as much as Jocelyn had to ours.
Drop off bins will be set up until Saturday, December 9th at the following locations:
Su Casa Grande Mexican Grille and Sports Bar @ n84w15842 Appleton Ave. in Menomonee Falls
The Stillery @ w204n14025 w Fond du Lac Ave. in Richfield
Das Barrel Room @ w201n10466 Appleton Ave. in Germantown
Jackson Pub @ n168w20594 Main St. in Jackson
Desire to Inspire Salon @ w194n16727 Eagle Dr. (Suite D) in Jackson
Derma Skin Care Clinic @ 925 Gateway Ct. in West Bend
Brazen Head Pub @ 147 N. Main St. in West Bend
Bill and Roxy's Shenanigans @ 1907 WI-175 in Richfield
In addition to the drop off sites there will be a birthday celebration for Jocelyn on Sunday, December 10th from noon until 3pm with the opportunity to drive by Jocelyn's home located @ w202n17298 Oakwood Dr. in Jackson. Drop off your toy and receive a treat for your children from Jocelyn and her family!